Clearwater Florida, an unforgettable beach town offering a perfect blend of relaxation, adventure, and culture. Clearwater boasts 35 miles of stunning beaches, family friendly attractions, a vibrant arts and culture scene, and an array of delicious dining options. Intrigued? Let's dive into what makes Clearwater a must visit destination for your next vacation.
From the iconic Clearwater Beach to the lesser known gems like Sand Key Park and Honeymoon Island, there's a beach for every traveler's taste. And it's not just about the sand and surf; Clearwater's rich arts and culture scene, top notch restaurants, and exciting family attractions make it a destination that caters to all ages and interests. Read on to discover why Clearwater should be at the top of your travel bucket list.
Key takeaways
Explore Clearwater Beach with its powdery white sand and aquamarine water.
Enjoy breathtaking sunsets at Pier 60, family friendly attractions such as the Clearwater Marine Aquarium, boat cruises and water activities, local cuisine and arts and culture scene.
Unwind at beach bars/breweries or choose from a variety of accommodation options to suit your needs while observing Florida's diverse wildlife in nature parks and preserves.
Discovering Clearwater Beach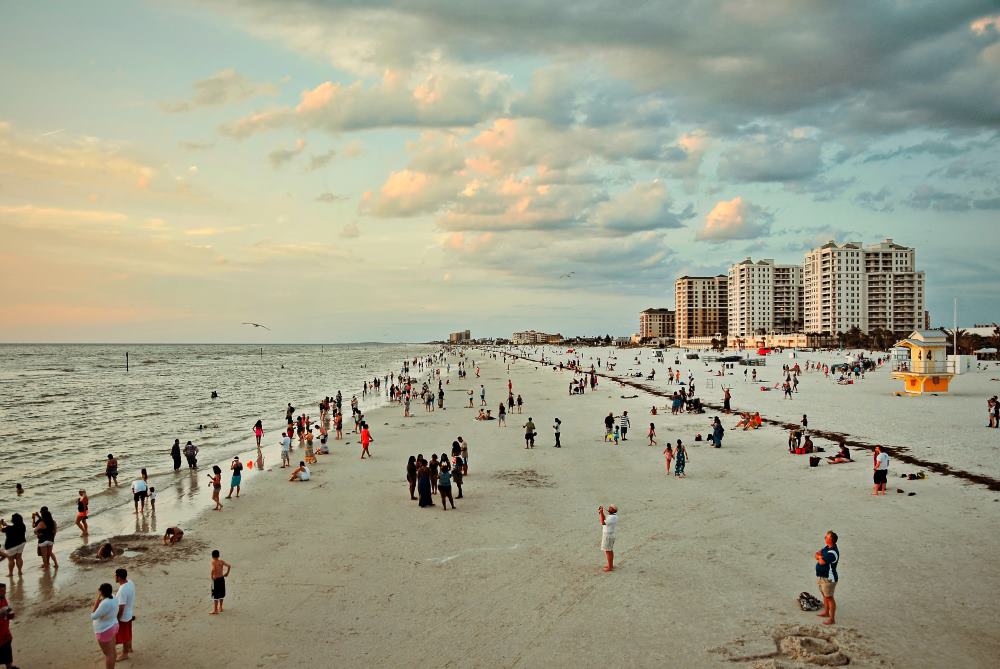 Clearwater Beach, nestled within the city of Clearwater, is a highly regarded beach destination known for its powdery white sand, aquamarine water, and breathtaking sunsets. A plethora of activities like sunbathing, swimming, and water sports ensure a continuous stream of fun and adventure at this top rated beach. The temperate climate, complimentary and family oriented waterfront activities, fresh seafood from the Gulf, ample beach bars, and numerous hotels make Clearwater an ideal vacation destination.
Clearwater Beach is divided from downtown Clearwater by the Intracoastal Waterway, offering visitors a unique blend of serene beach life and bustling city attractions. With great views and various activities, it's no wonder that Clearwater Beach is a top choice for beachgoers.
However, if you're looking for a more secluded spot, the beach area near Sheraton Marriot, close to Coachman Park, is a hidden treasure that's not as busy or costly as Clearwater Beach.
Sunsets at Pier 60
The nightly sunset celebration at Pier 60 counts among the most enchanting experiences in Clearwater. Located near Cleveland Street, Pier 60 is an area where you can take a leisurely walk, go fishing, or observe pelicans diving into the sea. As the sun begins to set, street performers such as fire breathers, tightrope walkers, and musically inclined jugglers entertain the crowd, creating a lively and unforgettable atmosphere.
The Pier 60 Sugar Sand Festival is another highlight of Clearwater Beach, offering:
Sandcastles and works of art.
Live entertainment.
Sand sculpting classes and competitions.
Plenty of free activities for children.
This two week celebration, located near Myrtle Ave, draws visitors from near and far to marvel at the incredible sand sculptures and soak in the vibrant beach atmosphere, all within walking distance of the Capitol Theatre.
Beach Walk
Beach Walk serves as an idyllic promenade favored for leisurely strolls, cycling, and souvenir hunting. With the optimal time to take a stroll along Clearwater Beach being within the 60-90 minute window around sunset, you'll be able to enjoy the breathtaking views of the sun setting over the gulf as you explore this charming area.
Along Beach Walk, you can partake in activities such as biking, rollerblading, and beach volleyball or indulge in some retail therapy at the numerous souvenir shops, offering beachwear, jewelry, and art galleries. It's worth checking out and a great way to spend an afternoon or evening, immersed in the beauty and ambiance of Clearwater Beach.
Explore nearby beaches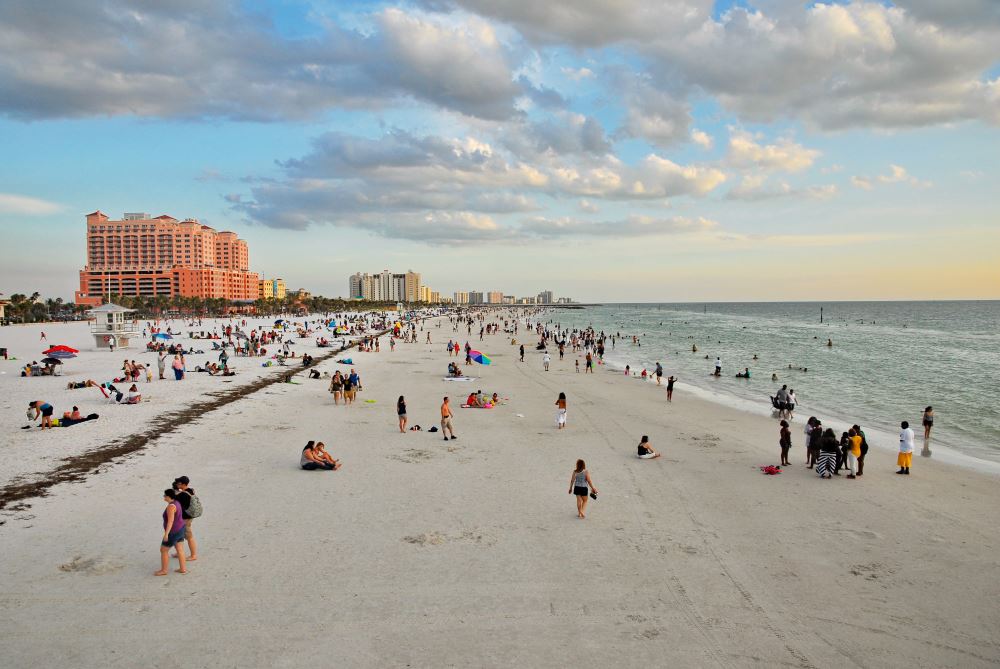 Those eager to venture beyond Clearwater Beach will find many other attractive options. The area boasts several other beautiful beaches, each with its own unique charm and attractions. Sand Key Park, for example, offers swimming, sunbathing, fishing, kayaking, and more, along with picnic areas, playgrounds, and a nature trail.
Another great option is Honeymoon Island State Park, where you can enjoy similar recreational activities and amenities, all within a picturesque setting. These nearby beaches are easily accessible and provide a wonderful opportunity to discover more of what Clearwater and its surrounding areas have to offer.
Whether you're seeking relaxation, adventure, or a mix of both, there's a beach that's perfect for you among the best beaches.
Family friendly attractions in Clearwater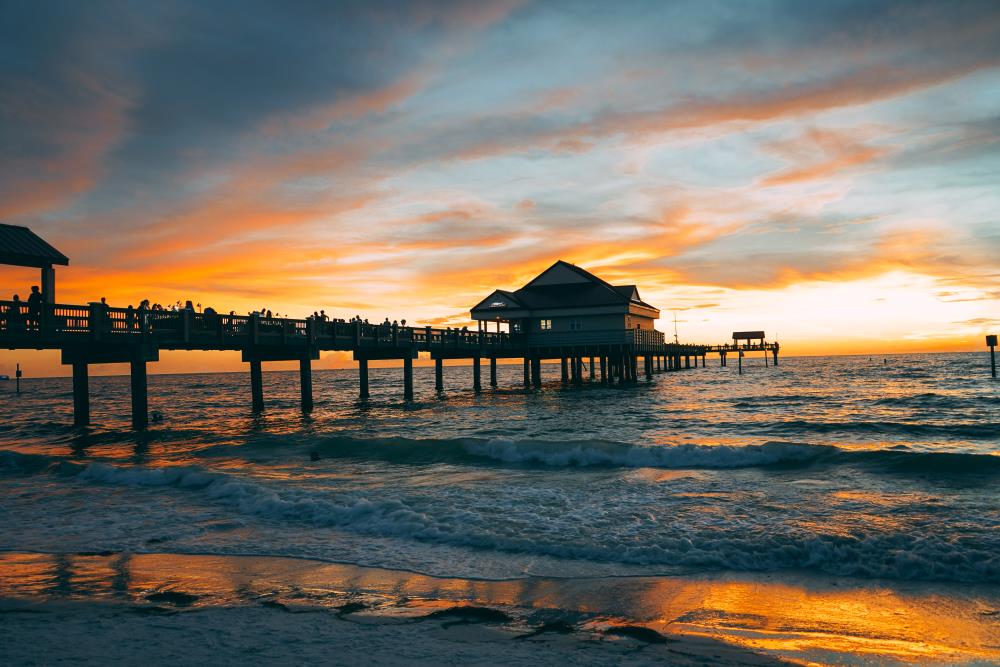 Families visiting Clearwater can indulge in a wealth of attractions to keep everyone engaged. The Clearwater Marine Aquarium and an array of boat cruises cater to all ages and interests, making for an exciting and educational experience that the whole family will enjoy.
Clearwater marine aquarium
A must visit for families is the Clearwater Marine Aquarium, home to rescued marine animals and a hub for engaging educational experiences. This non profit organization is devoted to the rescue, rehabilitation, and reintegration of marine life, housing an array of aquatic creatures such as dolphins, sea turtles, and stingrays. With the recent expansion, visitors can now observe rescued dolphins, sea turtles, and more through nine viewing windows, bringing you up close and personal with these incredible animals.
In addition to observing the marine life, the Clearwater Marine Aquarium provides interactive programs like animal encounters, dolphin photo opportunities, and stingray feedings. It's a fascinating and educational experience for the whole family, inspiring a greater appreciation and understanding of the marine world.
Boat cruises and water activities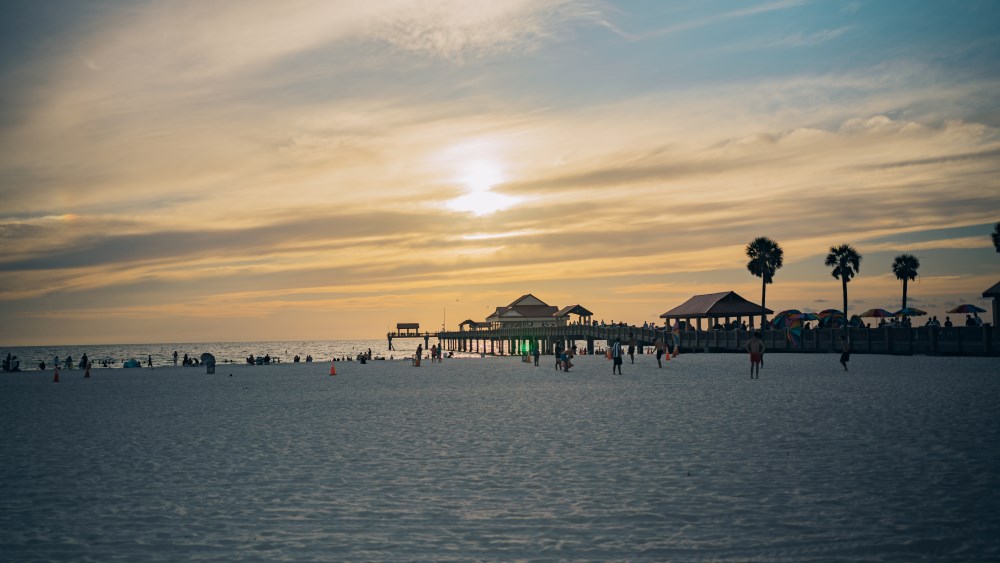 Clearwater is a haven for boat cruises and water activities suitable for all ages and interests. From pirate adventures to dolphin watching, there's an exciting experience waiting for every member of the family. Some popular boat cruises include:
Little Toot Dolphin Adventure.
Calypso Queen Tropical Party Buffet Cruise.
Captain Memo's Original Pirate Cruise.
Clearwater Dolphin Exploration Tour.
Clearwater Sunset Cruise.
One standout option is Captain Memo's Pirate Cruise, a two hour odyssey featuring:
Treasure hunts.
Dolphin watching.
Water gun games.
Face painting.
Stories from the captain's crew.
It's an unforgettable adventure that will have the whole family talking long after your trip to Clearwater has come to an end.
Savor the local cuisine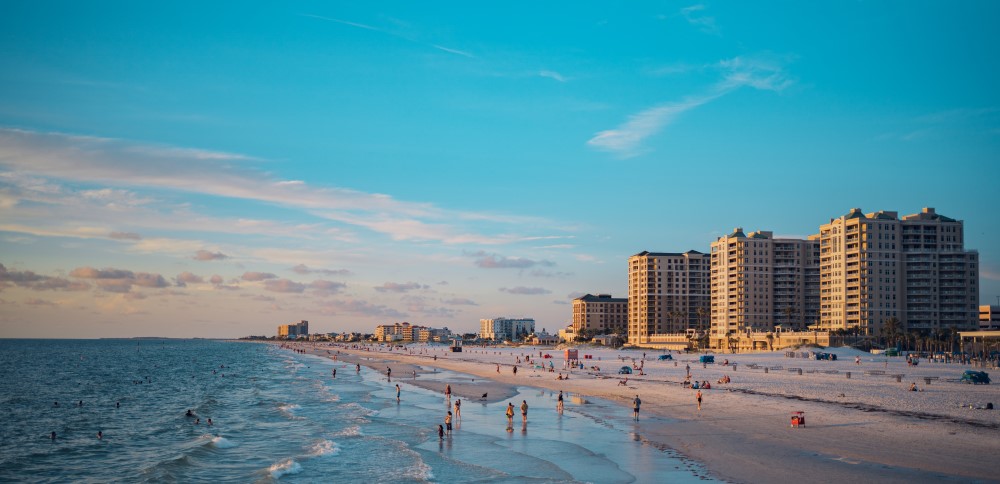 The culinary landscape in Clearwater flaunts a diverse array of flavors and experiences, guaranteeing delights for every palate. Renowned beachside restaurants like Frenchy's Rockaway Grill and Palm Pavilion Beachside Grill and Bar serve up delicious dishes with stunning views, making them popular choices among visitors and locals alike.
For a memorable weekend brunch, Clear Sky Beachside Café in Clearwater Beach is a beloved choice among locals, offering a mouthwatering selection of dishes to start your day off right. With so many fantastic dining options, you'll be sure to find the perfect meal to complement your Clearwater experience.
Immerse yourself in Clearwater's arts and culture scene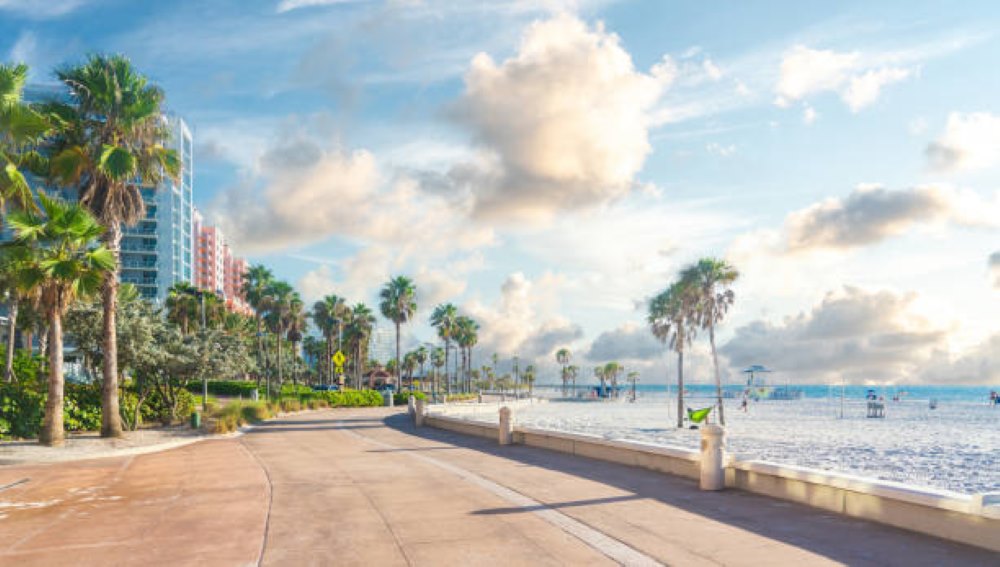 As vibrant and diverse as its beautiful beaches is Clearwater's arts and culture scene. With a variety of music, theater, and art galleries to explore, there's always something happening in this bustling beach town. The bustling Cleveland Street District, in particular, offers a wealth of art galleries and cultural attractions for visitors to discover.
Some of the most highly recommended art galleries in Clearwater include:
Studio 1212 Art Gallery.
3 Monkey Studios and Gallery.
Oddities and Antiques.
Marlene Rose.
Robert Schoeller Studios.
Clearwater Center for the Arts.
Whether you're an art aficionado or just looking for a unique souvenir, you're sure to find something that catches your eye in Clearwater's thriving arts scene.
Unwind at Clearwater's best beach bars and breweries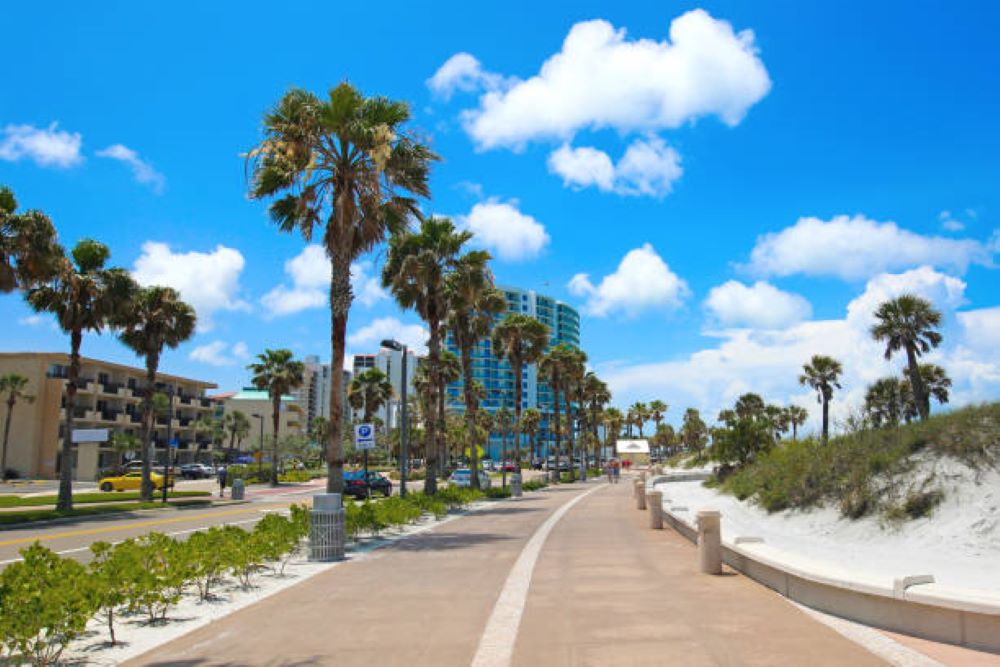 Wrapping up a day filled with exploring Clearwater's stunning beaches and attractions can be best accomplished at one of the area's top rated beach bars and breweries. Shephard's Tiki Beach Bar, Jimmy's Crow's Nest, and Clearwater Social Brew and Cork are just a few popular establishments where you can relax, socialize, and enjoy a refreshing beverage.
Other highly rated beach bars and breweries in Clearwater include:
Palm Pavilion.
Frenchy's Rockaway Grill.
Shephard's Tiki Beach Bar and Grill.
Crabby's Bar and Grill.
Surfside Taphouse.
Choose your ideal accommodation – downtown Clearwater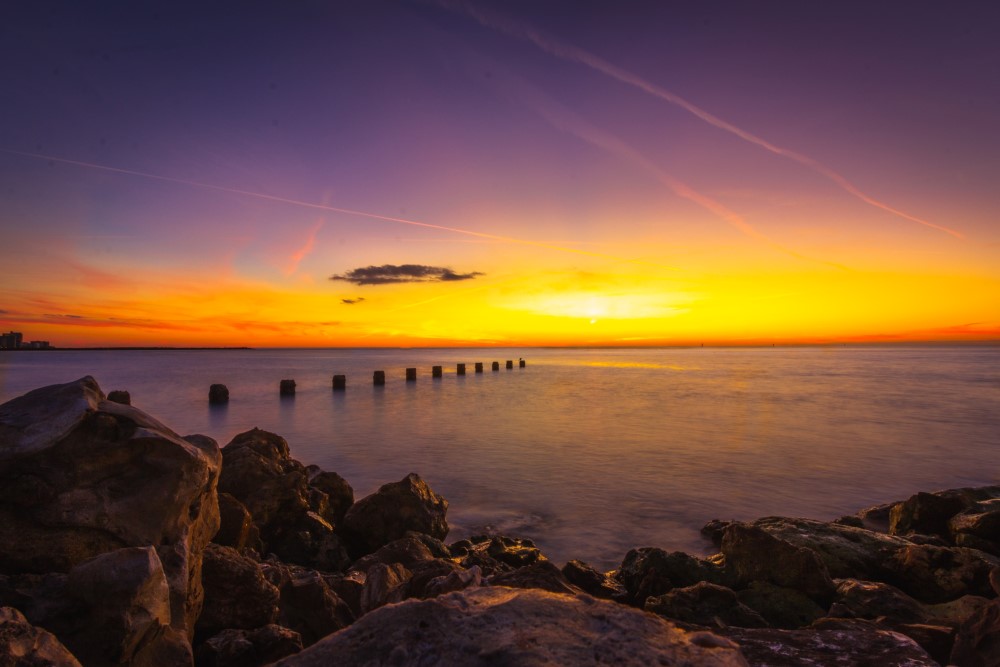 A vast array of accommodation options in Clearwater caters to the needs and budgets of every traveler. From luxurious beachfront resorts like Sandpearl Resort and Hyatt Regency Clearwater Beach to charming downtown hotels, you're sure to find the perfect place to rest your head after a day of exploring. Some other recommended beach hotels include Wyndham Grand Clearwater Beach, Hilton Clearwater Beach, and Shepherd's Beach Resort.
For travelers seeking a more vintage atmosphere, The Floridian Inn is renowned for its retro styled rooms and relaxing pool area. No matter where you choose to stay, you'll find that Clearwater's accommodations offer a blend of comfort, convenience, and unforgettable experiences.
Discover parks and nature in Clearwater
Beyond its stunning beaches, Clearwater boasts numerous parks and nature reserves for exploration. Some examples include:
Clearwater Beach.
Sand Key Park.
Beach Walk.
Clearwater Marine Aquarium.
Moccasin Lake Nature Park.
These are just a few of the natural wonders that await you in this beautiful city, where you'll find plenty to explore and enjoy.
Wildlife encounters
For those who want to get up close and personal with Florida's diverse wildlife, Clearwater's nature parks and preserves provide ample opportunities for wildlife encounters. Some great locations for wildlife watching include:
Moccasin Lake Nature Park: Visitors can spot gopher tortoises, raccoons, and birds of prey, including a majestic bald eagle.
Eagle Lake Park.
Honeymoon Island State Park.
Best time to visit Clearwater
For an optimal experience, plan your Clearwater visit between October and December. During these months, you can expect to enjoy lower humidity, fewer tourists, and pleasant weather, making it the ideal time to explore all that Clearwater has to offer.
Another great reason to plan your visit during this time is the opportunity to experience some of Clearwater's annual events, such as the Pier 60 Sugar Sand Festival and Clearwater Jazz Holiday. These events offer a unique and unforgettable experience, showcasing the vibrant spirit and culture of Clearwater.
Don't miss the chance to make your visit to Clearwater a truly memorable one!
Summary
Clearwater, Florida, is a beach lover's paradise, offering stunning white sand beaches, family friendly attractions, and a vibrant arts and culture scene. From the iconic Clearwater Beach to hidden gems like Sand Key Park and Honeymoon Island, there's no shortage of beautiful destinations to explore. With diverse dining options, lively beach bars and breweries, and a range of accommodations to suit every traveler's needs, Clearwater has something for everyone.
Whether you're seeking relaxation, adventure, or a mix of both, Clearwater truly is the Gulf Coast's can't-miss beach town. So pack your bags, grab your sunscreen, and get ready to experience the beauty, charm, and excitement that awaits you in Clearwater, Florida!
Frequently asked questions
Is Clearwater a nice part of Florida?
Clearwater in america, offers the perfect sunny Florida lifestyle close to beautiful beaches. Along with a selection of activities and attractions. It is an excellent place to live for families, young adults, and seniors.
What is the best time of year to visit Clearwater?
The optimal time to visit Clearwater is between October and December, when you can enjoy low humidity, fewer tourists, and pleasant weather.