The Sculpt Pod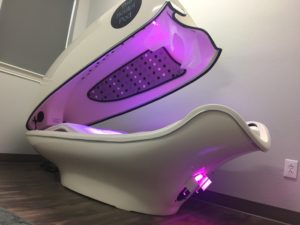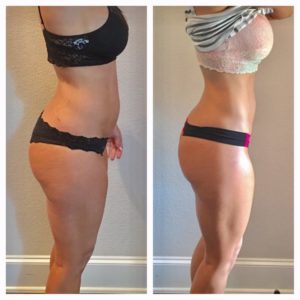 During your Sculpt Pod treatment, you will experience our 3 Step Patented Process. Infrared heat and LED lights are used to stimulate the body's natural process for breaking down and releasing stored content in the fat cells.
While inside the Sculpt Pod, you will experience whole body massage vibration to break down cellulite + stimulate the body to drain its fat cells naturally.
Infrared can assist with many wellness benefits; clients are experiencing pain relief, detoxification, weight loss & cellulite reduction, skin rejuvenation & relaxation + more.
When you use a far infrared sauna for varicose veins and spider vein treatment, the heat from the sauna effectively dilates the veins (which is why your skin appears red after exposure to heat) and can help move intravenous blood and circulate it throughout your body diminishing the appearance of the veins.
Each session is 30 minutes (this includes time to change clothes) you will be in the pod for 15.

Treatments cannot be performed on those who are pregnant or have heart conditions. OR ANYONE WITH METAL IMPLANTS.

Treatment attire for women: sports bra/bathing suit top and shorts.

Treatment attire for men: shorts


Refrain from eating 1 hour before & one hour after your treatment.
Plan to consume at least one bottle of water after your session – staying hydrated is key to aiding your body in flushing toxins + fat.


Sculpt Pod treatments are structured into courses of 6-10 sessions. Your number of treatments is determined by the results you want to see, your requirements and goals. We suggest 2-3 Sculpt Pod treatments a week every other day to get started.
There is no recovery period and no downtime after your Sculpt Pod session.

Often Sculpt Pod results can be seen immediately and improve with every treatment. Over the course of 10 Sculpt Pod sessions, you can achieve dramatic reshaping of your body plus reduction and sometimes complete removal of cellulite.


Benefits such as pain relief and detoxification can be noticed after one session.
Benefits of The Sculpt Pod
~Inch Loss
~Skin Tightening
~Cellulite Removal
~Improves Metabolism
~Breaks Down Scar Tissue
~Reproduction of Collagen
~Reduces Stress and Fatigue
~Accelerates Natural Healing Process
~Diminishes Varicose Veins and Spider Veins
~Improves Lymphatic Drainage and Circulation
~Relieves Discomfort Associated with Swelling
~Improves Neuropathy Symptoms and Rheumatoid Arthritis