Hollywood Body Wraps offers 4 types of Body Sculpting treatments:
The Sculpt Pod, ThermaSculpt and Lipo Laser!
& Introducing Slim Wave (Electro Body Sculpting)


EMS Technology: How It Works
About  SlimWave      
SlimWave uses EMS (electro muscle stimulation) technology. EMS enables natural exercise safely and effortlessly to create slenderness, inch loss,firmness and strength. The treatment also stimulates the body's natural fat burning and toning process helping to give you a body that is not only lean and firm but healthy too! With SlimWave we can target specific areas of the body (working several areas at one time) to get the results that you want. The stimulation from the electrical current also increases circulation of the skin. Thereby improving texture and tone as well as reducing the appearance of cellulite.
Q: Does it really work?
A: Try SlimWave once and you will know it works! You feel your muscles contracting and exercising during the session for measurable results.
Q: How many inches will I lose?
A: After a 10 session abdominal package, you weight remains constant, one can expect a loss that varies between 1/2" – 2" off the rib cage, off the abdomen, and off the waist area, factoring in diet and lifestyle.  Accordingly, one can lose up to 2 pant sizes in 20 sessions.
Q: What does it feel like?
A: At no time will you will feel pain. It is a non-invasive treatment that may feel relaxing to some. You will feel a tingling sensation at the beginning of the treatments, which is the same sensation one might feel during a muscle rehabilitation session with a physiotherapist, then you will feel contraction of the targeted muscles.
Q: How often should I come for a treatment?
A: Per area, three times a week is ideal. Twice a week is a minimum to get results.
Q: How many areas can I target in a single session?
A: A client may choose to do two areas during a visit. Depending on the client's goal, the technician may suggest to focus on one area for the optimal results of the problem region.
Q: Is the SlimWave electro muscle stimulation (EMS) treatment safe?
A: There are no negative side effects.
Q: Should I do anything after I finish a session?
A: In order to enhance the lymphatic drainage process, which is stimulated when the muscles contract and relax, you are encouraged to drink a glass of water before a session and drink several glasses after a session to assist your body with elimination of toxins.
Q: I just had a baby. Can SlimWave get my stomach back into shape?
A: There is no faster or easier method of correcting the stretched tummy muscles after childbirth.  You can start treatments six weeks after childbirth or six months after a caesarean section.
Q: I am over 50 and have very poor muscle tone. Can SlimWave help?
A: Yes! Age is no barrier and where there is more room for improvement the results seem even more dramatic, when complemented by a sensible diet and regular exercise, you will see toning and quick and visible inch loss. In fact, we have had individuals over the age of 70 experience the benefits of SlimWave treatments.
What is The Sculpt Pod?
During your Sculpt Pod treatment, you will experience our 3 Step Patented Process. Infrared heat and LED lights are used to stimulate the body's natural process for breaking down and releasing stored content in the fat cells.
While inside the Sculpt Pod, you will experience whole body massage vibration to break down cellulite + stimulate the body to drain its fat cells naturally.
Infrared can assist with many wellness benefits; clients are experiencing pain relief, detoxification, weight loss & cellulite reduction, skin rejuvenation & relaxation + more.
When you use a far infrared sauna for varicose veins and spider vein treatment, the heat from the sauna effectively dilates the veins (which is why your skin appears red after exposure to heat) and can help move intravenous blood and circulate it throughout your body diminishing the appearance of the veins.
What is ThermaSculpt?
ThermaSculpt is a new, revolutionary fat removal technology that does NOT involve surgery – there is no need for anesthetics, no hospital stay or time off work. ThermaSculpt utilizes a five part non-invasive technology including: Biocurrent, Ultrasonic Cavitation, Lymphatic Vacuum, Tripolar and Radio Frequency components. This allows for non-invasive removal of stubborn fat deposits that never seem to disappear no matter of your diet or how hard you work out.
This treatment targets cellulite, aging skin, as well as stretch marks and scars! The most common problematic body areas include: abdomen, "love handles", thighs, buttocks, inner knees, upper arm and bust.
Generally one Thermasculpt treatment lasts 30 minutes depending on the size of the area and the thickness of the fat layer.  72 hours must pass between each session so that the body can eliminate the fat. Most of the guests experience 2 to 6 cm of circumference reduction after a single session, with increasing results after each visit. Proper diet and increased physical activity will certainly improve and help to maintain the results.
Different levels of Ultrasonic Cavitation liquefies fat within the fat cell, when fat is in liquid form it is able to escape the fat cell, it is then absorbed by the lymphatic system and drained from the body with maximum results showing in 14 days. Most patients see visible results after 1 or 2 treatments.
*Even though the studies have proven the treatment safe, ThermaSculpt is not to be used on guests with an acute illness, compromised liver function, severe bleeding tendencies, pace makers, or during pregnancy.
Benefits include:
Improve blood circulation & lymphatic circulation
Improve skin texture
No pain
Remove fat cells permanently
Reduction of cellulite
Tightening and lifting areas of the face
Reduce wrinkles
Enhances luminosity of the skin
Increase collagen level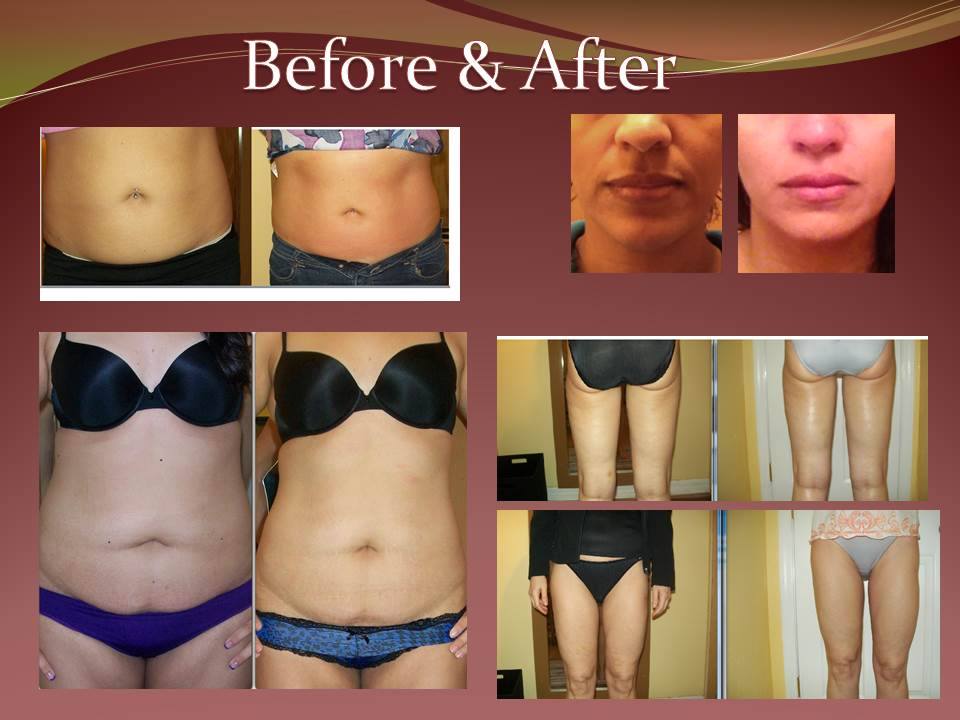 What is Lipo Laser?
Lipo Laser offers a way to achieve inch loss and body contouring with no pain, no needles and no down time. Lipo Laser seeks the end of painful and dangerous liposuction surgeries and offers an affordable, safe alternative, which is medically proven to produce similar results.
The rays emit low levels of laser energy, which creates a chemical signal in the fat cells, breaking down the stored triglycerides into free fatty acids and glycerol and releasing them though channels in the cell membranes. The fatty acids and glycerol are then transported around the body to the tissues that will use them during metabolism to create energy. Fat spills out from the broken cell membranes and are released into the interstitial space where they are slowly transported through the body's natural lymphatic system.
Ultrasound imagery shows up to 30% reduction in the fat layer depth after just one treatment. Additional treatments improve results further.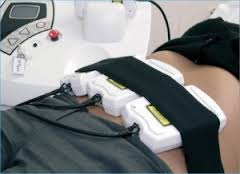 Immediate Results— Inch loss results can be seen immediately after treatment and cumulatively after a series of treatments!  The Lipo Laser uniquely incorporates lymphatic stimulation to accelerate  the uptake of the free fatty acids to improve treatments results.  A course of 8 treatments is recommended over 4 weeks with 2 treatments per week.  Deliver immediate results and immediate patient satisfaction with Lipo Laser!
Pain Free— Unlike most other fat reduction procedures, Lipo Laser treatments are completely painless.  Patients won't have to be talked into undergoing Lipo Laser treatments—they'll look forward to them!
Fast Treatment Times— Lipo Laser procedures take only 30 minutes!  The patient can  lie down during treatments and read or Listen to music, totally relaxed and comfortable. *Please bring in headphones if you would like.*
No Downtime— Since the Lipo Laser is a non-destructive technology, there are no side effects as a result of a Lipo Laser procedure.
Treat All Body Parts— Lipo Laser is not limited to treating only the waistline and can, in fact, target unwanted fat deposits almost anywhere on  the body. By positioning the laser pads on the treatment area such as upper arms, abdomen or thighs, fat can be broken down and removed specifically from that area. Diet and exercise alone cannot do this—only the Lipo Laser can target specific areas for inch loss reduction quickly, painlessly and consistently.