*Please remember a change of undergarments for all body wrap appts.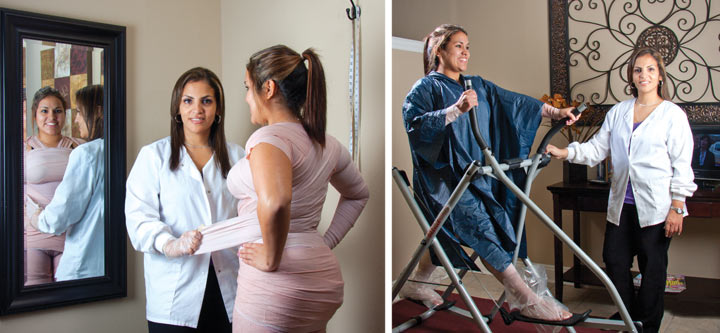 ---
Benefits of our Mineral Wrap & Why you should Try It!
Help relieve water retention
Help Reduce sagging skin while losing weight
Hydrate your skin
smoother skin
Lose Inches instantly
Tighter Firmer skin
Reduce Cellulite
Helps improve metabolism
Remove Toxins
---
Slim Wrap
The safest, most effective body wrap on the market today for toxin removal and guaranteed inch loss! With this wrap, you can expect to lose 6 to 20 inches in your first wrap, tighten and tone skin, reduce stretch marks, smooth ugly cellulite, increase energy and enjoy a healthy, refreshed feeling.
The Slim Wrap is our signature wrap. This is the Body Wrap that you have seen on The Tyra Banks Show, The Rachael Ray Show, Ellen, The Fabulous Life of, Fit Nation, The View and many more.This is THE wrap that all of the Hollywood Stars get before their Red Carpet events — now available to you!
$179.00
Fat Burner Wrap
Two wraps in one- using fat burning enzymes and rich minerals, this improved slimming body wrap gives one the feeling and look of an instant body lift by tightening sagging skin, lessening the appearance of cellulite, reduces stretch marks and just giving the skin an instant healthy glow. You can expect to lose 6 to 20 inches in your first wrap …you will love this wrap and best of all it keeps working for the next 72 hours!
$225.00
Body Lift Wrap
Developed for those who need maximum skin tightening, this body wrap focus on greater inch loss through a rapid and intense cleansing.our most popular body wrap among clients who have recently lost weight,have loose skin from weight loss and aging
$225.00
Infrared Body Lift Wrap
This treatment provides a firmer, tighter appearance of the skin. This wrap was developed for those who need maximum visual skin tightening. Using aloe based minerals and Infrared Heat, The Body Lift gives you an obvious energy boost, and leaves the skin feeling silky
$225.00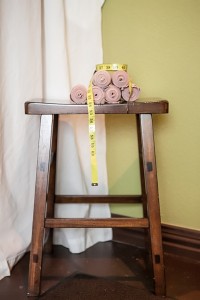 Partial Body Wraps
Spot Treatment Slim Wraps
For our clients who seem to have trouble in specific areas that just won't seem to budge, The Spot Treatment Slim Wrap delivers results to the stomach, thighs, arms, hips and butt. For some of us, no matter how hard we diet and exercise, these areas seem to be the hardest to slim down. Spot Slimming Wraps are 35 minute relaxation wraps. Each client can decide which areas to wrap to a maximum of 2 areas.
$155.00
Express Wrap
This wrap concentrates on the targeted areas below the bust line to the knee. There will be no measurements taken and inch loss guarantee will be waived. You will be in and out in no time! (this is our Slim Wrap in Express form)
$155.00
The Belly Buster
This System not only helps you trim the mid section but helps burn fat! Utilizing Infrared energy, in one treatment you can burn up to 900 calories. Losing weight and being healthy does not get any easier than this.
$155.00
Add On Services
Intense Cellulite Treatment
Our Cellulite Treatment is an intense treatment and must be done before a Body Wrap. We prep the treated area by Dry Brushing and add special Gels before starting your body wrap.This treatment will not work by itself.must be followed by a body wrap.
$65.00
[vc_row][vc_row][vc_column width="1/1″][/vc_column][/vc_row]

How do body wraps work?
The body has 3 layers of fat. Over time, as toxins begin to accumulate, LIFE, literally shapes our bodies: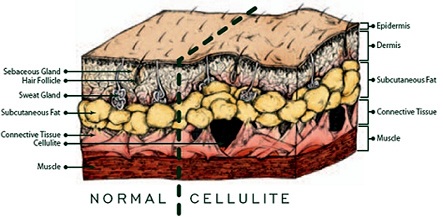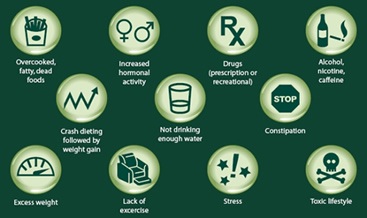 The accumulation of the above toxins in the body causes poor circulation, water retention and the body's natural elimination process becomes weakened. As toxins accumulate between the fat cells, the skin begins to take on an orange peel effect of cellulite as the fat cells expand to accommodate trapped toxins (demonstrated on the right side of the Body fat diagram above).
Our body wraps use a detoxifying solution that is absorbed into the body, extracting toxins from between the fat cells, and restoring much needed nutrients to the body. As toxins are removed, empty pockets are formed and the compression of our advanced wrapping technique creates inch loss, nourishes, tightens and tones the skin.
How long does it take?
Your first body wrap session is approximately 2 hours. First measuring and wrapping will take about 30 minutes. An additional 45 to 60 minutes are spent in the wraps, and then unwrapping; a second measurement and dressing take approximately 15 minutes, followed by the reviewing the results from your first session. For our members and program holders, the body wrap should take approximately 1 ½ hours.
What if I want to drop sizes?
People want to drop sizes for different reasons. Weather it's a wedding, reunion or your just trying to fit into those old Jeans, we can help you achieve that change you are looking for. It takes 3-6 Body wraps to drop one pant size. Our Body wraps are safe enough to do every 24 hours. So don't throw away those old Jeans, just yet!
(program must be followed as advised)
What should I wear to be wrapped?
In order to maximize the coverage of the Contour Wrap, we suggest that women be wrapped in cotton undergarments, and men are required to wear underwear and gym shorts. You will be wrapped in warm, damp bandages, so bring an extra set of dry undergarments for after the wrap.
What should I do after the wrap?
The body wrap process is still working in your body for 5-7 days after your body wrap and provides your body the ability to continue inch loss and tissue reduction. For continued results, we suggest the following:
For continued inch loss, wear contouring clothes like a firm body shaper.
Since our process is removing toxins from your body, we encourage you to assist this process by avoiding toxic foods such as salt, sugar, alcohol, caffeine and carbonated beverages for several days following the wrap.
An internal cleanse, which includes drinking 8 to 10 glasses of water a day, will complete the detox process by flushing out the toxins.
We also recommend avoiding creams or lotions on your areas of concern and by taking lukewarm showers during this time period.
In addition, dry brushing increase circulation and decrease the appearance of cellulite.
How often can I get a body wrap?
The body wrap is a safe and effective process that may be done as often as you wish. For inch loss results, we have found that a series of 6 to 12 wraps-performed at least 3 days apart–gives most clients the full benefit of the process. If you are losing weight, a continuing series of treatments will show results and help tighten the skin to your new shape. Many people are happy after just one wrap, and others return monthly to maintain their results and to keep the skin soft and supple.
How long does it last?
As long as you maintain your weight (or lose weight), the lost inches will stay off . Bear in mind that in every day life we continue to take in toxins through chemicals and preservatives absorbed daily through the air we breathe, the foods and drinks we consume, and the products we use on our bodies. As previously noted, the solution is removing toxins, so introducing toxic substances back into your body could reverse the effects.
During your post-consultations we give instructions to help maintain, and lose additional inches lost. We recommend reducing the amounts of toxins avoiding salt, sugar, fried foods, alcohol, caffeine and other highly toxic foods. Regular exercise will also retard the re-toxification process and prolong your inch-loss results.
Does the SlimWrap involve exercise?
Our System will reduce inches with or without exercise, but the benefits of any level of exercise will increase your results.
Is this just a temporary water loss?
No! The SlimWrap contour wrap is a firming and toning process that produces results by detoxifying and contouring the flesh; therefore, you will lose inches not pounds. We recommend drinking 8 to 10 glasses of water a day, especially on the days following each wrap to continue the detoxification process through the body's natural elimination system. Flushing your system this way will even aid weight loss.
Will wraps help Lap Band/Gastric Bypass patients tighten and tone excess and loose skin?
Body Wraps are the perfect partner for gastric bypass or lap band patients who are losing weight drastically. Losing weight causes a breakdown of fat, releasing more toxins within the soft tissues, frequently resulting in loose, flabby-looking flesh. The detoxifying and sculpturing wrap will firm and tighten the flesh, showing the full benefits of your weight loss. We recommend a wrap after every 5 lb. loss.